Family Style: An AAPI Food Anthology
"Family Style: An AAPI Food Anthology" is a 44-page anthology publication by Asian and Asian American and Pacific Islander (AAPI) creators to share the lesser-known histories behind AAPI foods. Our diverse communities have created foods that serve as a record to reflect our resilience through long histories of colonialism and migration. We hope to connect our audience to the emotional and historical sides to these dishes through illustration and writings. Each illustration is accompanied by an abridged history on that dish that details its journey to what we are familiar with today. Through this collection of art and writing, we aim to serve up familiar dishes with their rich historical context to humanize our communities and deepen our relationships with food and each other.
Sample spread below, with art by Ry Macarayan and writing by Sarahlynn Pablo: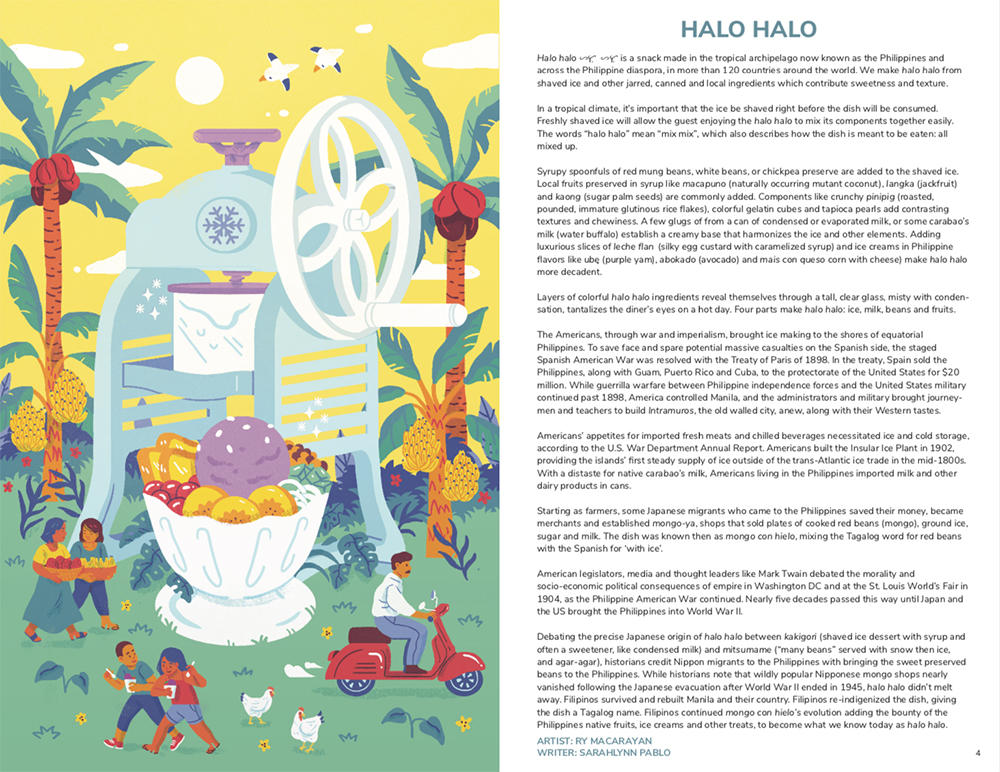 Here is a list of the dishes that are in this edition of Family Style Zine, as chosen by our artists:
Banchan 반 찬
Bánh mì
Bánh Xèo
Beef noodle soup 牛肉麵
Curry
Egg tart 蛋撻
Halo halo
Hong Kong milk tea 港式奶茶
Hot pot យ៉ាវហន
Jajangmyeon 자장면
Kalo
Kare-kare
Kimbap 김밥
Laksa
Ramen ラーメン
Taiwan Breakfast Foods
Tapsilog
Wasabi ワサビ
Yangzhou fried rice 揚州炒飯
Youtiao 油條
This zine was published in May 2018. Learn more about the project via the original IndieGoGo campaign or the Family Style social media accounts (Twitter, Instagram, Tumblr).
Download
Click download now to get access to the following files:
FamilyStyleZine_ItchVers2020.pdf
112 MB